Men's Discipleship
QBC Men's Discipleship
Let the word of Christ dwell in you richly, teaching and admonishing one another in all wisdom.
Col. 3:16
As iron sharpens iron, so one man sharpens another.
Prov. 27:17
Men's Discipleship is a small group of men who are committed to the church and will gather together regularly to:
1. Read good Christian books together
a. We will read on a schedule together.
b. Each week an assigned individual will briefly share their insights from that week's reading.
2. Study the Bible together
a. We will spend the bulk of our time studying the Bible together through an inductive Bible study.
3. Pray together
a. Separate into groups of two/three.
b. Pray for ourselves, for one another, for our church, for other churches in our city in light of the passage studied together earlier.
Who is invited?
- Any man over the age of sixteen who is a member at our church and is eager to grow and willing to commit to read the required books, meet regularly, and participate in the discussions.
What is the purpose of this group?
- "What you have heard from me in the presence of many witnesses entrust to faithful men, who will be able to teach others also," 2 Tim 2:2.
- To make disciples who will make disciples. This, however, isn't only for those who feel gifted in teaching but for all who want to obey the Great Commission and "make disciples," which requires some element of teaching (Matt 28:18-20; Col 3:16; Eph 4:11-16).
Do I have to be a member to participate?
- Yes. The purpose of this group is to invest in men who are committed to the health of our local church and will take what is learned and turn around and invest it into others within the church. However, even if you are not a member, but you are actively pursuing or considering membership, then you are welcome to join.
How long do you intend to meet for?
- The current goal is to meet follow along with the school year and break for Summer (see schedule below).
When will you meet?
- Every other Thursday night at 7:00PM, starting on September 9th.
Where will you meet?
- In the large classroom upstairs in the east wing of the church.
What book of the Bible will you study?
- This year we will be looking at the book of Proverbs.
How much reading will I be doing?
- It will fluctuate depending on the book, but will approximately be around 12-15 pages a week.
Will I need to buy my own books?
- Yes, you will be responsible for purchasing your own books. However, if there is any difficulty with this, please let Marc know and the church would be happy to help procure the books for you.
How do I register?
- You can register simply by sending an email to Marc at marcs@qbc.org.
Schedule for 2021-2022: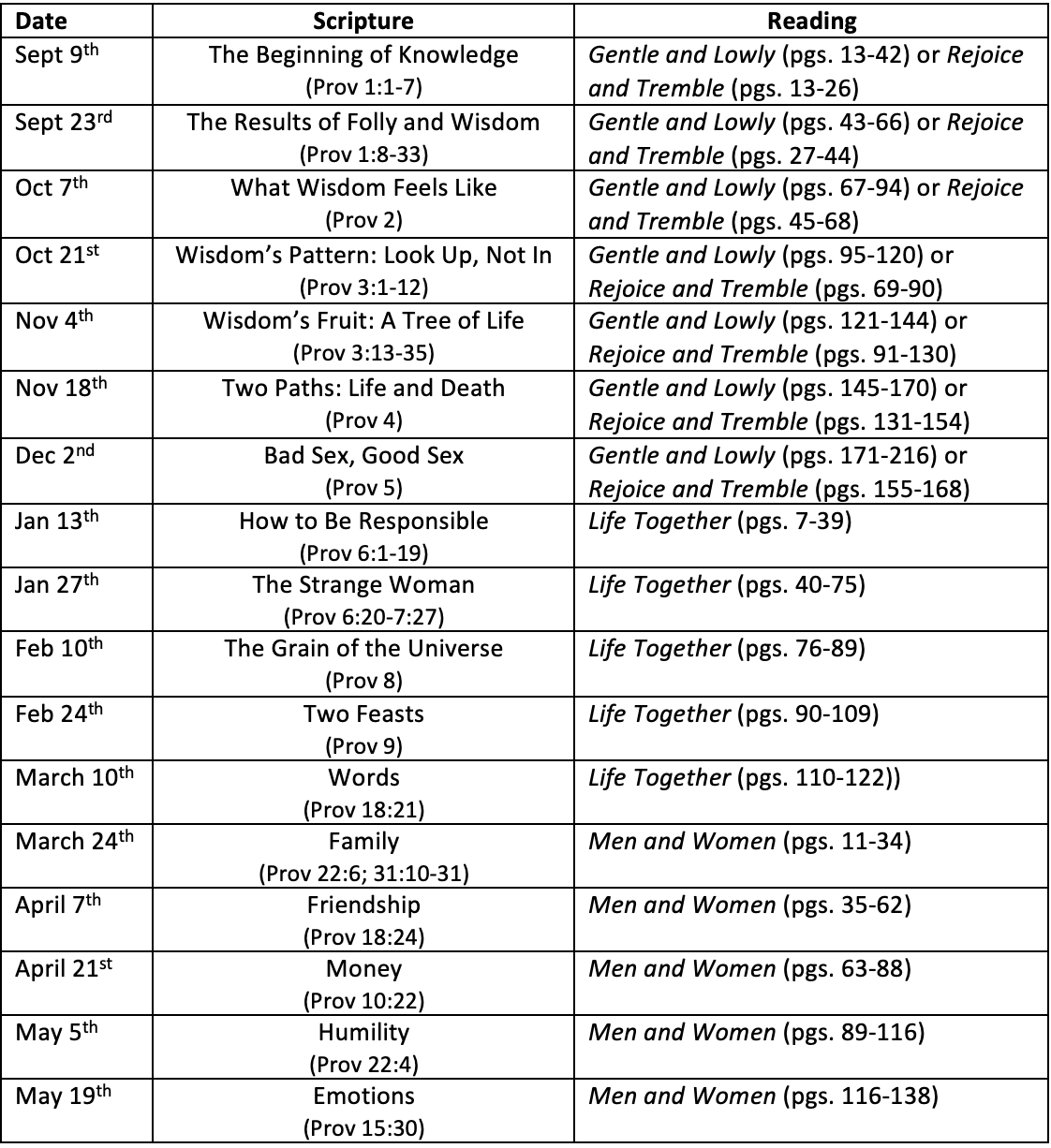 Books:
Gentle and Lowly by Dane Ortlund
Rejoice and Tremble by Michael Reeves
Life Together by Dietrich Bonhoeffer